With Amusement for All
A History of American Popular Culture since 1830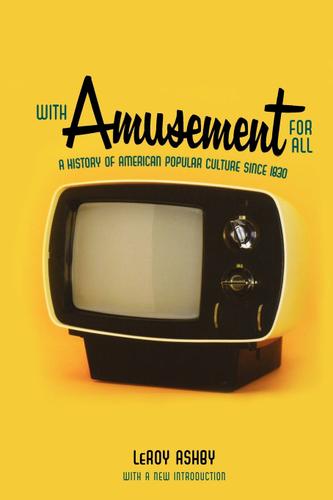 Already purchased in store?
Additional Book Details
Popular culture is a central part of everyday life to many Americans. Personalities such as Elvis Presley, Oprah Winfrey, and Michael Jordan are more recognizable to many people than are most elected officials. With Amusement for All is the first comprehensive history of two centuries of mass entertainment in the United States, covering everything from the penny press to Playboy, the NBA to NASCAR, big band to hip hop, and other topics including film, comics, television, sports, dance, and music. Paying careful attention to matters of race, gender, class, technology, economics, and politics, LeRoy Ashby emphasizes the complex ways in which popular culture simultaneously reflects and transforms American culture, revealing that the world of entertainment constantly evolves as it tries to meet the demands of a diverse audience. Trends in popular entertainment often reveal the tensions between competing ideologies, appetites, and values in American society. For example, in the late nineteenth century, Americans embraced "self-made men" such as John D. Rockefeller and Andrew Carnegie: the celebrities of the day were circus tycoons P.T. Barnum and James A. Bailey, Wild West star "Buffalo Bill" Cody, professional baseball organizer Albert Spalding, and prizefighter John L. Sullivan. At the same time, however, several female performers challenged traditional notions of weak, frail Victorian women. Adah Isaacs Menken astonished crowds by wearing tights that made her appear nude while performing dangerous stunts on horseback, and the shows of the voluptuous burlesque group British Blondes often centered on provocative images of female sexual power and dominance. Ashby describes how history and politics frequently influence mainstream entertainment. When Native Americans, blacks, and other non-whites appeared in the nineteenth-century circuses and Wild West shows, it was often to perpetuate demeaning racial stereotypes—crowds jeered Sitting Bull at Cody's shows. By the early twentieth century, however, black minstrel acts reveled in racial tensions, reinforcing stereotypes while at the same time satirizing them and mocking racist attitudes before a predominantly white audience. Decades later, Red Foxx and Richard Pryor's profane comedy routines changed American entertainment. The raw ethnic material of Pryor's short-lived television show led to a series of African-American sitcoms in the 1980s that presented common American experiences—from family life to college life—with black casts. Mainstream entertainment has often co-opted and sanitized fringe amusements in an ongoing process of redefining the cultural center and its boundaries. Social control and respectability vied with the bold, erotic, sensational, and surprising, as entrepreneurs sought to manipulate the vagaries of the market, control shifting public appetites, and capitalize on campaigns to protect public morals. Rock 'n Roll was one such fringe culture; in the 1950s, Elvis blurred gender norms with his androgynous style and challenged conventions of public decency with his sexually-charged performances. By the end of the 1960s, Bob Dylan introduced the social consciousness of folk music into the rock scene, and The Beatles embraced hippie counter-culture. Don McLean's 1971 anthem "American Pie" served as an epitaph for rock's political core, which had been replaced by the spectacle of hard rock acts such as Kiss and Alice Cooper. While Rock 'n Roll did not lose its ability to shock, in less than three decades it became part of the established order that it had originally sought to challenge. With Amusement for All provides the context to what Americans have done for fun since 1830, showing the reciprocal nature of the relationships between social, political, economic, and cultural forces and the way in which the entertainment world has reflected, refracted, or reinforced the values those forces represent in America.
| | |
| --- | --- |
| Sold By | The University Press of Kentucky |
| ISBNs | 0813171326, 9780813171326, 9780813123974 |
| Language | eng |
| Number of Pages | 713 |